UVA Children's Logo
These are the UVA Children's preferred logos. The combination of the UVA Children's primary logo and the storybook graphic make up the secondary logo for UVA Children's. The logos can be used interchangeably. The logos should be used in the preferred color format whenever possible to represent UVA Children's.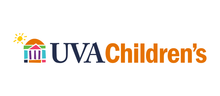 Preferred Full-Color Logo
The full-color CMYK or RGB logos are preferred. Use CMYK for any print use such as collateral or business papers. Use RGB for digital use such as PowerPoint presentations, web or broadcast/video. See color specifications.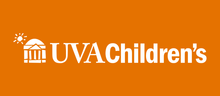 White Knockout Logo
The white knockout logo is a versatile logo that can be used in both print and digital applications. It is best used on a primary or secondary UVA Children's color or photographic backgrounds where the preferred full-color logo will not work.